Ashley Mortensen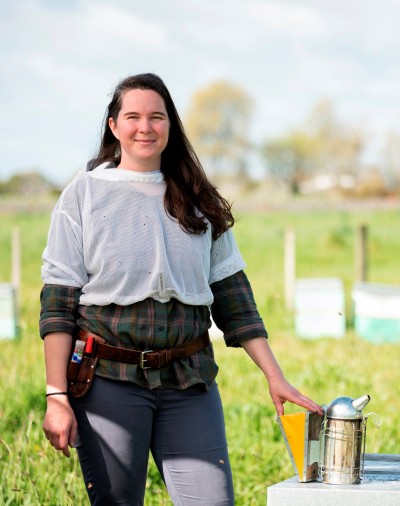 Name Ashley Mortensen
Current Job Title Scientist
Organisation Plant & Food Research
AWIS Role Waikato Co-Convenor
Academic Background B.S. in Animal Science from Texas A&M University, M.S. in Entomology from the University of Florida, Ph.D. from the University of Florida
Area Of Science Bee physiology and behaviour
My Story
Ko Ashley tōku ingoa
Nō Texas ōku tīpuna
Kei te noho au ki Kirikiriroa
I have always been interested in animal behaviour and biology. I studied animal science during my undergraduate programme and, just after graduating, I got what I thought was my dream job as a zookeeper caring for a variety of species including okapi, snow leopards, elephants, gibbons, and tamarins! I left that position to move out of state for my partner's career a couple years later and got a job as a vet nurse. I also started doing wildlife rehabilitation to fill the wildlife niche that was missing in my life. One of the other rehabilitators had just started keeping bees, and it sparked my own interest to start keeping bees as a hobby. As I learned more about bees, I became fascinated with their physiology and behaviour, and eventually I began a graduate study programme in entomology.
I have two children, one born just before starting my master's degree and the second born during my doctorate study. Having a family presents obvious constraints on my availability and flexibility at work, but it also forces me to clearly define my work and (just as importantly) my not-work time. I believe the responsibility to my children has forced a level of work-life balance that I think many early-career scientists struggle to maintain.
My family and I moved to New Zealand in 2018 for my current role at Plant and Food Research. It has been a big transition but has been a great learning opportunity, tons of fun, and I am glad to now call New Zealand home.
Extra Curricular
Little farmette with miniature donkeys, arapawa sheep, kunekunes, chickens, rabbits, and dogs! I'm a serial hobbiest and love creating whether it be building animal shelters at the farmette, sewing, baking, or crochet!