Ecologist Cate Macinnis-Ng recognised for mentoring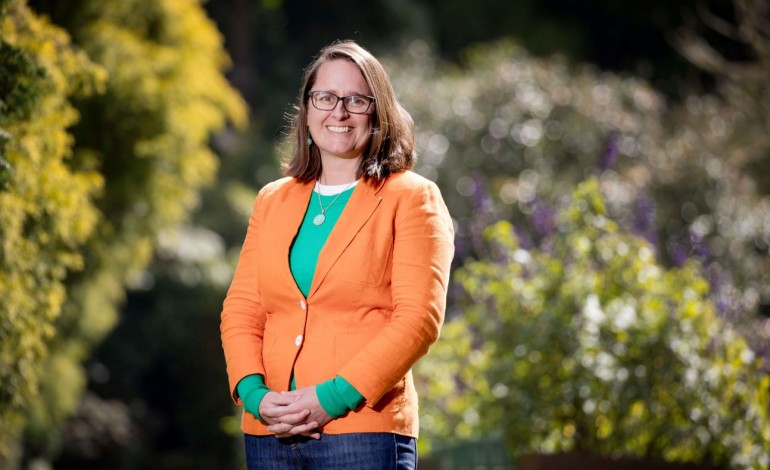 Plant ecophysiologist Associate Professor Cate Macinnis-Ng has been recognised for her mentoring of other women in science with this year's Dell Award from the Association for Women in the Sciences (AWIS).
Awarded biennially by AWIS, the Dame Miriam Dell Award for Excellence in Science Mentoring recognises those who demonstrate outstanding mentoring efforts – beyond that expected of their paid role - to retain females in the sciences.
In addition to her role as Associate Professor of Ecology at Waipapa Tamata Rau The University of Auckland, Cate is also Chair of the Constituents' Forum of the Royal Society Te Apārangi, and Past President of the New Zealand Ecological Society. Through both her paid and voluntary roles, Cate has demonstrated her passion for supporting, amongst others, women working in the sciences.
Cate's research focuses on the impacts of climate change on forests and biodiversity. She graduated with a BSc (Honours) in Biological and Biomedical Sciences and a PhD in Plant Sciences from the University of Technology Sydney, where she worked until moving to New Zealand to work at the University of Auckland in 2010. She often shares her own parenting experiences and combining work with family life, which has led to her strong advocacy for mothers in science. She often presents on panels for students and early career researchers on combining research, academia and parenting, and regularly supports women transitioning through changes in work patterns based on their parenting pathway.
In her role at the Royal Society Te Apārangi, Cate is the Constituent Organisation representative on the Council and regularly raises issues of inclusion at Council meetings. She was instrumental in the development of a careers gap calculator, which is now used for applicants to determine their eligibility to apply for several Royal Society-managed funds, including Marsden Fund Fast-Start and Rutherford Discovery Fellowship funding. The career gap calculator provides a mechanism for researchers to determine their period of experience – which considers career gaps for instances such as parental leave or unemployment – which is particularly important for early career researchers where funding is dependent on the length of post-PhD experience.
As President of the New Zealand Ecological Society, Cate established a mentoring scheme, which has supported more than 50 early career mentees since it began in 2019. Originally intended for marginalised groups, including women, this scheme was extended to all members of the Society, building the idea that mentoring is for everyone.
Cate is a regular commentator on bias in academia, and has contributed to two publications on gender diversity – one exploring gender balance in universities in Aotearoa New Zealand and one describing approaches for addressing gender bias in forest research*.
"Cate is a notable ecology researcher, with an impressive list of publications and awards. However, what really stood out for the Dell Award Judges were the activities she'd undertaken in a voluntary capacity. Her nomination was also supported by a number of heartfelt stories provided by people she had mentored in some way during their career, often not as a direct manager but through chance conversations and meetings.
"Cate strongly demonstrates the essence of the Dell Award, the above and beyond support of women – the same spirit that Dame Miriam demonstrated up until her passing last year," says Emma Timewell, National Co-Convenor of AWIS.
This year's Dell award is the first to be awarded since the passing of Dame Miriam Dell in March 2022. AWIS wishes to acknowledge her advocacy of women throughout her career, and her support of AWIS as Patron.
The Dame Miriam Dell Award for Excellence in Science Mentoring was introduced in 2013 and is awarded on a biennial basis to someone who demonstrates outstanding mentoring efforts to retain females in science, mathematics or technology. Nominees can be from any part of the science system – including lecturers or supervisors at universities or other tertiary education organisations, or from commercial science-based organisations. They may have mentored, formally or informally, females at any stage in their career from tertiary education to the science workforce.
The Award is named for Dame Miriam Dell (1924-2022), Patron of AWIS, botanist, secondary school teacher and advocate for women's advancement. Previous recipients are Judith O'Brien from the University of Auckland (2013), Dr Roslyn Kemp from the University of Otago (2015), Professor Vivien Kirk from the University of Auckland (2017), Professor Abigail Smith from the University of Otago (2019) and Dr Di Tracey from NIWA (2021).
*Macinnis-Ng, C. and Zhao, X., 2022. Addressing gender inequities in forest science and research. Forests, 13(3), p.400.
Walker, L., Sin, I., Macinnis-Ng, C., Hannah, K. and McAllister, T., 2020. Where to from here? Women remain absent from senior academic positions at Aotearoa New Zealand's universities. Education Sciences, 10(6), p.152.